Invite Peace of Mind to your next Event
Ever have a party where you did all the work and had none of the fun?  Let us take care of all the work for you while you enjoy your event!  Our unique method and process will guarantee you have a great, stress-free, memorable event that your guests will be talking about for some time. 
Whether you work in an office, or in charge of planning a private event and your tired of having to work with multiple caterers and restaurants to get different types of food to mix things up but hate dealing with 10 different people, then we are the company with a personal touch for you! We partner with local restaurants and build easy to order packages from these restaurants, but give you a personal service representative to work with, getting the same great service every time that understands your needs!
Let us show you how!
Reviews
I really couldn't have asked for a better catering experience than I had with Terrance and his team at Convenient Catering. I had an extremely tight deadline, a set budget, and a ton of asks -- and Terrance was ready with solutions the whole way through.
Not to mention, the food (breakfast and lunch) was a huge hit with my crew of nearly 50 people. I HIGHLY recommend Convenient Catering, they are just a pleasure to work with all around.

Thanks again from a very grateful client!

Karen Lo

I reached out to Terrance with Convenient Catering to cater for our baby shower and honestly, it was a great experience. He was responsive and provided key input into the dishes and quantity of food that would work for our party size. Convenient catering is flexible when it comes to meeting our specific event needs and they worked with us to finalize a menu which suits all age groups and diets. The food quality was solid and the layout was very professional. I have to mention that the lamb meatballs and the lamb chops were delicious :) Overall a solid company to work with and I'll recommend them to anyone.

Thanks, Terrance, for your hard work and I hope to work with you soon on another event!

Ankit Vasisht
I recently used Convenient Catering to cater my son's birthday party; I had about 40 people. I have to be honest, this bunch is very picky about their Italian food. Well, Convenient Catering knocked it out of the park! All I received was rave reviews about the food. Every single dish was a crowd pleaser--the meatballs, penne vodka, sausage and peppers, and chicken marsala were declared the best anyone had ever had! And this is no exaggeration. As for the service, I can't say enough good things! Everything was delivered and set up promptly and I didn't have to worry about a thing. Thanks for making me look so good!

Lisa Tomaszewski
Terrance and Convenient Catering provided cotton candy for my daughter's Sweet 16 Party. They arrived at venue early, were polite/professional and ready to serve on time just as discussed when scheduled. They delivered exactly as promised and my daughter and her guests had an amazing cotton candy experience done even better than anticipated. Thank you again Terrance!

Frank Benowitz
My experience with Convenient Catering was great from start to finish. I was throwing a last minute retirement party and needed someone who was able to get back to me quickly and Terrance was just that. He wasn't trying to up sell me the whole time, just gave me exactly what I was looking for and made suggestions on the portions and options. My guests all raved and asked for referrals at the party. I will absolutely be using them again!

Reannon Alicea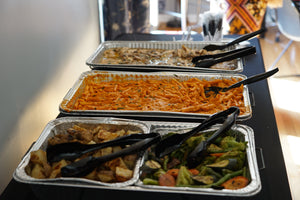 Specializing In Graduation, Sweet 16 and Birthday Party Catering
We excel in providing the most convenient to use service for Birthday Parties, Graduation Events, Sweet 16's and more! We have everything you need to have one of these events from awesome flat-priced Catering Packages, to any linen or table ware items you'll need, to our famous and Full-Service Party Rentals!
We are the best Catering company in Princeton NJ and to prove it just take a look at our countless 5-star reviews on Google and Facebook and see what our past customers have said about us!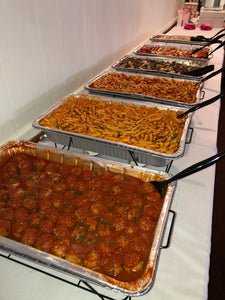 Experts in making you look good!
Whether your in charge of your companies' Corporate Catering event, the local community gathering or social event, you will be accountable for having great food and a great event. The stress of putting together a great event is hard enough already, so why not hire an experienced staff and company that specializes in these events?! We take care of all the details from set-up, booking the venue if needed, guiding you through the entire process of exactly how much food you'll need as well as providing entertainment for all ages during your event if needed as well!